By Bike
Transporting bicycles is permitted to a limited extent and under certain rules.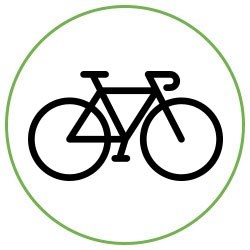 BUS
Folding bicycles may be taken on board if contained within the appropriate bags, in order to avoid inconvenience and danger for passengers. Bicycles can then be transported as hand luggage and must be placed on the shelf at the entrance, within the limits of the space available and without hindering the normal flow of passengers. Busy times should be avoided.
Small bicycles and children's scooters can be transported for free.
TPL assumes no liability for damage caused to third parties or bicycles.
FUNICULAR STATION
Bicycles may only be taken on board in the following time slots: from 05:00 to 07:00, from 09:00 to 16:00, and from 19:00 to 24:00; this is also dependent on the space available based on passenger volume.
Cost CHF 1.30.